How To Fix "Your Account Has Been Temporarily Locked" On Instagram
You've been locked out of Instagram when instead of seeing the familiar home screen, you get the "Your Account Has Been Temporarily Locked" message.
Yikes.
Instagram temporarily locked your account because it has triggered some red-flags which makes it safer to halt the account than to allow it to potentially do even more damage.
You may have been either the culprit, or the victim of an attack, but don't worry; all is not lost.
Instagram knows that you may have been innocent in all this so luckily for you, they have a clear process to unlock the account and get you back online.
I'm going to guide you through all of the steps to fix your Instagram account temporarily locked issues and get you back to using your account in no time.
Locked Out of Instagram Message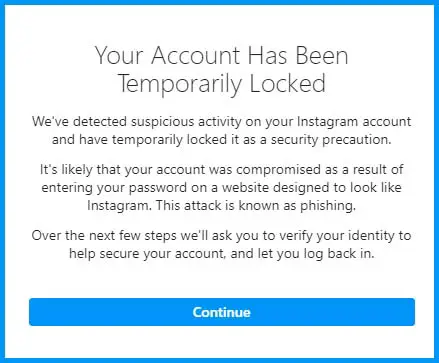 If you've been locked out then you'll see the locked out of Instagram message when you try to log in to your account:
"We've detected suspicious activity on your Instagram account and have temporarily locked it as a security precaution.

It's likely that your account was compromised as a result of entering your password on a website designed to look like Instagram. This attack is known as phishing.

Over the next few steps we'll ask you to verify your identity to help secure your account, and let you log back in."
When you tap on the "Continue" button, Instagram immediately sends a 6-digit code to your email.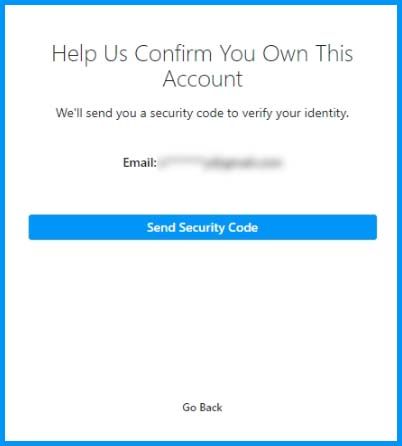 TIP: If you did not get the code to your email, check your junk folder or the spam folder in your e-mail.
If you still didn't get the code either because you no longer have access to that e-mail, or you just didn't get the e-mail at all, then Instagram will be unable to verify your identity and unlock your Instagram account back to you.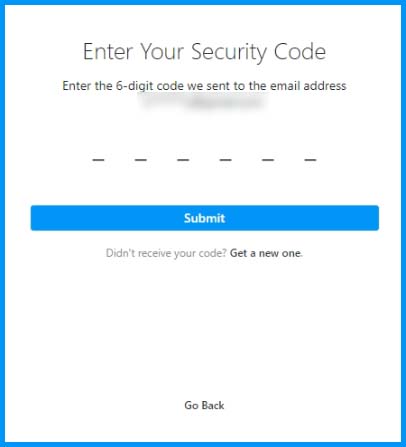 Nobody wants to be locked out of Instagram so let's try to figure out why the lock was placed on your account in the first place.
Why is My Account Temporarily Locked on Instagram?
In case you forgot, Instagram has community guidelines that you agreed to when you signed up to use their service.
If Instagram has reason to believe that your account has violated one or more of their user policies then they will place a temporary lock on your Instagram account.
This violation can happen if either you yourself did something wrong with your account or someone else did, with or without your knowledge, that was against their rules.
Contrary to popular belief among the people that have been locked out of Instagram, the social media giant does not randomly select people to lock their accounts for kicks.
Your account was locked for specific reasons, which their automated systems have detected.
Your Instagram account was temporarily locked for suspicious activity because of one or more of the following reasons:
User Activity That Resembles Bots
Instagram can detect when an account performs actions too quickly within a 1-hour and 24-hour active monitoring periods.
A human user can only do so much on Instagram with a phone and two thumbs.
So if they detect actions on your account that happen at an unnaturally fast rate then they know it is likely caused by 'bot activity' and will lead to a temporary account lock to prevent further misuse of their systems.
These 'bots' or automated computer programs can perform the following tasks which are easily caught by Instagram:
Following and Unfollowing Instagram Users in Bulk
People know that when you follow other people, they tend to follow you back in some kind of weird Instagram solidarity.
So to exploit this, you can follow hundreds of people in a short space of time and then unfollow them immediately after they start to follow you.
They don't get a notification that you unfollowed them so it's like a 'victimless crime'.
Except, it isn't: Instagram takes notice of that and you end up looking like a 'bot'.
Liking Then Un-liking Instagram Pictures Too Fast
You can easily scroll through your feed and like a couple of photos or so in under a minute.
Everybody does it, no big deal.
But liking a hundred pictures in about 5 minutes or so is definitely not natural and so easy to spot.
You look like a 'bot' when you do that, period.
Commenting On Instagram Posts Too Fast
You know it: commenting on Instagram gets your own account noticed by other people.
So the more comments you leave on other people's posts, the more engagement you'll get and ultimately the more followers you'll get too.
Innocent? Nope.
Instagram sees this as bot activity and will lock your account for sure.
Posting The Exact Same Comment On Multiple Instagram Posts
You've seen it.
The 'Great post!' comment or the 'Awesome!' comment over and over again on Instagram posts.
Posting the same comment on many Instagram posts looks unnatural and adds little to no value to the discussion.
Doing this looks like you've literally cut-and-pasted your comment on every post you could find even if it was a post on somebody's grandma dying from the plague.
Not cool.
And also not allowed by Instagram.
Using 3rd-Party Instagram Apps
Using some third-party apps goes against Instagram's rules.
Not all of course.
There is actually an approval process for some apps to have access to the Instagram API.
But unfortunately for the rest, there are 3rd-party Instagram apps that actually help to automate the shenanigans listed above.
If you're using a 3rd-party app to boost your number of followers, you might have actually been locked out of Instagram for being spammy.
Some of these third-party apps work to follow and unfollow users in bulk, which makes Instagram think the traffic that's coming from your account is definitely from a 'bot'.
Which, let's face it, it is.
Some more of these apps are also used in 'scraper accounts' that people use to mine data from Instagram.
Again, this is also in violation of Instagram's Terms of Use.
Remember, Instagram wants people to have a good user experience on the platform and these apps work against that.
Your Instagram Credentials Were Phished
You have been phished.
Not to be confused with fish.
Phishing happens when you submit your Instagram username and password to a fraudulent website that you thought was legit.
Somewhere along the way, you were presented with a login screen to Instagram which looked just like the original authentic website.
Except, it was not.
It was a fake.
And you typed in your username and password into a fake Instagram website.
Which means your account credentials are now in the hands of attackers who can do anything they want.
They probably already went in and did some damage which is what triggered the lock on the account.
How NOT to Fix "Your Account Has Been Temporarily Locked" on Instagram
Warning: Do Not Use Instagram Account Recovery Services!
You are desperate.
You have been locked out of Instagram and in your desperation to get back in, you probably did a Google search for Instagram recovery services.
And in your quest to recover your Instagram account, you came across many paid online services promising to help you get back your account fast.
These are SCAMS.
Having 3rd party people access to your Instagram account is likely what caused you to be locked out in the first place.
Please do not give out your Instagram credentials or your credit card number to these people.
You will regret it.
Badly.
Don't say you weren't warned.
How to Fix "Your Account Has Been Temporarily Locked" on Instagram
Now on to the fix.
You need to submit a "My Instagram account has been deactivated form" to fix the "Your Account Has Been Temporarily Locked" on Instagram problem.
Instagram will ask you to take a clear photo of yourself holding up a paper or poster with a large written code on it to prove you are actually you.
Once this is done, you'll need to wait 1 to 3 business days for Instagram to send a response.
Unfortunately, this may sometimes take weeks for Instagram to review your submission and give you a response.
STEP 1: Get The Correct Form
Go to the Official My Instagram Account Was Deactivated form.
ADDITIONAL FORMS:
Instagram actually has several different forms that each address a specific reason why your account was blocked.
These are the links to those forms:
https://help.instagram.com/contact/437908793443074
https://help.instagram.com/contact/396169787183059
https://www.facebook.com/help/contact/606967319425038
https://help.instagram.com/contact/1652567838289083
Please read each carefully to ensure you submit the correct form for your unique circumstance.
STEP 2: Fill Out The Form
Fill out the form:
Enter your full name
Enter the exact email address tied to your Instagram account that you are trying to recover. No other email address will work so be sure to have it.
Enter your Instagram @username and your phone number.
Give your reason why your Instagram account being deactivated was a big mistake and that you didn't violate any of their community guidelines.
STEP 3: Submit The Form
Click 'Send'
STEP 4: Wait On E-Mail Reply
Receive e-mail from Instagram requesting a live photo of you holding up a paper with a code on it.
STEP 5: Send Your Photo Holding The Code
Send a photo of yourself holding the handwritten code
TIP: You have to hold the paper with the written code up almost like a mugshot.
Your face must be clearly seen and the overall picture must be well lit with no Photoshop work.
When I went through this process myself it took me several attempts to get the picture right because Instagram kept rejecting it.
Save yourself the trouble and just do it right the first time.
The point in all this is for Instagram to determine that you are who you say you are and not an imposter or a bot.
Actual Instagram employees and not a robot make this determination which adds to the time needed for this.
STEP 6: Wait On Confirmation
Just wait.
After a few days, Instagram will send you a confirmation message that your account has been restored.
This can take anywhere from a few days to a few weeks!
And here's another problem, if you are not successful, Instagram will not send you any correspondence informing you that you are unsuccessful.
This means you can easily be waiting in vain.
I got mine back in 24 hours after completing this process when Instagram locked me out but that was me, your experience may be different.
Instagram Temporarily Locked FAQs
How Long Does Instagram 'Temporarily' Lock Your Account?
This 'temporary' lock on your Instagram account is actually 'temporarily indefinite'.
This means that if you choose not to perform the steps above, your account will never be recovered and will actually display the user not found error whenever someone tries to search for your account.
You can unlock your Instagram account only after successfully performing all of these steps and getting the notification from Instagram that your account has been restored.
How To Stop Getting Banned From Instagram
It's really not that hard to not get banned from Instagram.
Just play by the rules:
Remove any 3rd party apps that you know you shouldn't be using
Don't click on links that are not from Instagram that ask you to enter your username and password.
Stop doing spammy things. Really.
TIP: Link your Instagram account to your other social media accounts. This brings some added social proof that you are a real person which may help reduce the likelihood of your account getting banned on Instagram.
Conclusion
If you've been locked out of Instagram, all is not lost; your account has been temporarily locked and there is a good chance it can still be recovered.
It happens from time to time and thankfully there is a process to unlock a locked account.
Instagram locked me out just as it did you, and that's when I learned that many people have a backup account that they build up over time by promoting it to their followers long before anything ever goes wrong.
Having a backup Instagram account helps to ensure you don't lose out on interacting with your audience while you are locked out of your main account.
If it's already too late for you to do that at this point, then just create a fresh account and start all over again.
Sucks, I know.
But Instagram will not stop you from doing that even while your original account has been locked out.
Good luck, you'll need it.